UHF 433 MHz Active RFID Rugged Reader/Receiver
UHF 433 MHz Active RFID Rugged Reader/Receiver
Description
Overview

This RS485 / RS232 RFID reader detects and decodes RF transmitted signals from compatible Wavetrend tags. It can be configured remotely and can be connected to a host PC, edge server or intelligent hardware controller via RS232, RS485 or TTL; it can also be used singly or in networked mode. It offers a connection for an external antenna. This active RFID reader can be used in rugged conditions at ultra long ranges. The detected tag data is sent by the reader via RS485 / RS232 or USB to authorized corporate computing systems.
This compact reader is ideally suited for asset tracking, people tracking, and other safety or security applications. It can be used to create RFID networks within buildings. The tag data and reader status information is fed into the end-user application enabling complete management of all tagged assets and the automation of business decisions about them based on accurate and near real-time knowledge of their location and condition.
Key Features
Instant reporting of detected Wavetrend active RFID tags
User configurable tag data and read range filters
Singular use or as part of multiple reader daisy chain network
Easy remote configuration via the reader network
RS232, RS485 and USB connection
Supports wide variety of antennas to achieve custom coverage areas
| | |
| --- | --- |
| Key Features | Benefits |
| Up to 255 unique Receiver Addresses possible | Allows for multiple readers to be connected in a daisy-chain RS485 network |
| Remote readers are powered via standard CAT5 cable, centralized or distributed PSU topology may be used | It can be powered over the network or individually depending on the clients' requirements |
| Reader status indication by LED's at RJ45 connectors | Provides activity and function diagnostics |
| Certified for FCC and ETSI | Can be deployed in most countries |
| High RF long and short range sensitivity | High near field resolution < 0.5 m |
| USB connection | Allows easy installation diagnostics and demonstrations |
| RF hardened Receiver | Maintains high performance in RF noisy backgrounds |
| Configurable protocol support for L series | Can read L series tags |
| Two modes of data transmission: Hardware auto-polling: tag data provided automatically from reader network. Software polling: tag data requested from each reader individually by intelligent edge devices or host application. | Hardware auto-polling allows for the continuous feed of tag data to the system in the fastest possible manner. Software poling allows for dynamic communication with each reader by software applications, instant notification of reader offline and customization of reader polling order and frequency. |
Typical read ranges of tags with various antennas
(Distances may vary depending on the ambient RF environment and site configurations and may not match those stated in this sheet. Read ranges will generally be greater outdoors than indoors. With specialist antennas, ranges in excess of 500m can be achieved.)
| | |
| --- | --- |
| Antenna Type | Read Range |
| 304001 | ¼ Whip up to 50m |
| 304002 | ⅛ Stub- up to 20m |
| 304004 | Circular patch up to 150m |
| 304005 | Outdoor Whip up to 150m |
Serial Networking hardware
Completing the networking suite for all power and access control requirements please refer to the 214041 and IPSU.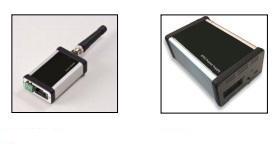 Technical Specifications
Environmental
Operating temperature
– 40 °C to 85 °C
Storage temperature
– 20 °C to 70 °C
Humidity
5% to 90% (Non condensing)
IP Rating
IP50
Physical
Size
105 mm x 58mm x 28mm
Weight (unit)
118 grams
Color
Aluminium Grey
Material
Aluminium
Connections
2 x RJ45 socket
1 Mini USB type socket
2.5mm Power socket
Radio Frequency
Receive Frequency
433.92 MHz
Modulation
ASK
RF Input
50 Ohm BNC
Electrical
Supply Voltage
7 V to 16 V DC
Max. current consumption
60 ma
Protocol Specification
Standard Data Rate
9,600 to 115,200 (baud rate)
Standard Data Rate
RJ45 connectors